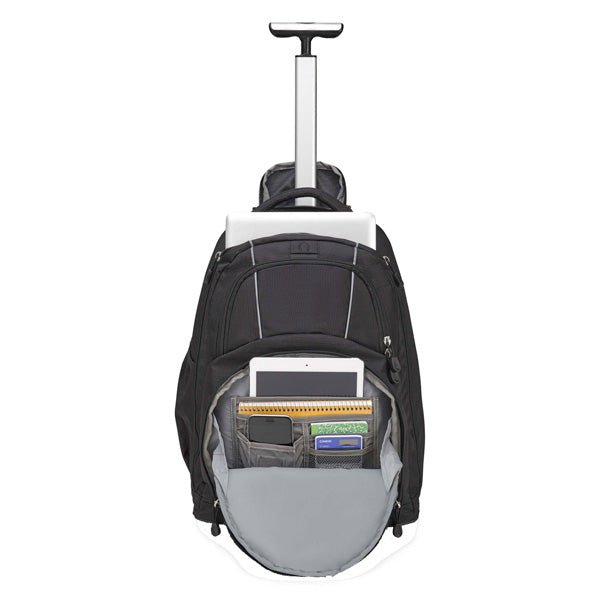 Rolling Backpack (Bullet Proof)
Our bulletproof Rolling Backpack is the perfect carry-on wheeled bag. Durable nylon wheels and a rugged, engineered, collapsible handle adds function to our full-size day-pack. This rolling pack is versatile and can be used for school, work or travel. It has a discreet layer of NIJ IIIA high-quality ballistic protection that weighs less than 20 ounces. There are no tags or labels to indicate this is an anti-ballistic or bulletproof backpack. It has all of the room of a conventional backpack with a padded computer sleeve. Metal detector and tourist-friendly for airports and travel.
Features and Benefits
Can be wheeled or worn like a backpack.
Two Large Main Compartments help keep you organized.
Mesh PDA/Cell Phone Compartment.
Fabric Flap Conceals Wheels when not in Use.
Internal Key Clip.
Materials: 420d Nylon Dobby.
Unique Dual Decoration Detail.
iPod or Headphone Port.
Front Zipper Pocket with Multi-Function Organizer.
Sculpted Telescoping Handle.
Nylon Inline Wheels for Smooth Rolling.
Padded Backpack Straps and Grip Handle.
Contoured Padding on Torso for Added Comfort.
Large Expandable Side Pockets.
Multiple Other Compartments.
External Beverage Holder.
Wide Padded Comfort Straps.
Panel adds only 20 ounces of ballistic weight. 
Holds up to a 15" laptop.
Ballistics
Removable Kevlar bulletproof interior liner for cleaning and maintenance.
BulletBlocker utilizes the latest DuPont Kevlar technologies.
Tested to the NIJ IIIA standards stopping a 357 Magnum, 44 Magnum, 9mm, .45 caliber hollow point ammunition and more.
Panel: Removable.
Specifications
Proudly manufactured in the United States of America.
Dimensions: 13"W, 19"H, 8.25"D
Weight of panel: 20oz. (567grams).
Weight of bag + panel: 5.3 lbs. (2.4 kg).
Capacity: 2,035 cu. In. (33.3 liters).
Padded computer Sleeve (sleeve: 11.5"L, 16"H, 2.25"W)
Shipping: Please allow 14-21 business days. A majority of our products are custom-made at the time you place your order and must pass rigorous quality assurance analyses before they leave our facility. Anti-ballistic materials (whether purchased from us or any other company) have an industry standard expiration of 5 years, and we strive to preserve our product's longevity by following a 'made to order' production approach. We pride ourselves in delivering the highest quality products to our customers and appreciate your understanding.
View Our H.P. WHITE LABORATORY NIJ-STD-0101.06 Testing Performance Certification