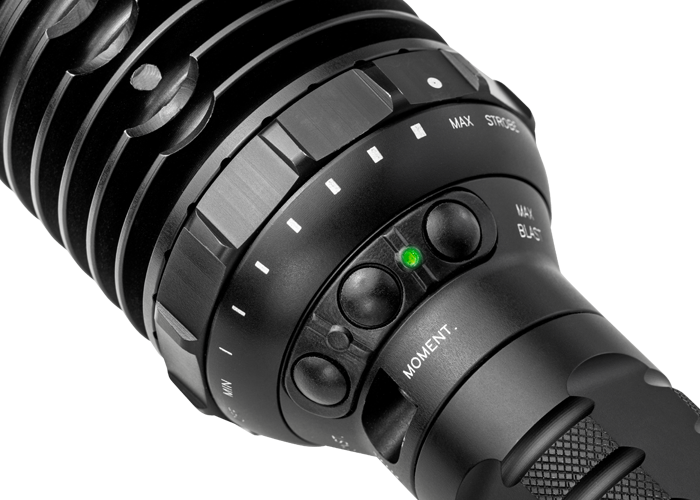 The Ultimate Surefire UDR DOMINATOR
The Dominator is ideal for military, border security, and maritime applications, or any mission where an ultra-bright, portable white-light spotlight/searchlight is vital. This includes search-and-rescue operations where covering large areas thoroughly and rapidly is critical. The easily selectable lower-output levels expand the utility of the UDR by allowing the output to match different task requirements, and by providing the ability to extend the total runtime per battery charge or set of batteries. Additionally, a strobe mode can be selected for tactical applications or signaling purposes, and an extra-long lanyard provides convenient carry options when it's not in active use. 
Description:
   2,400 Lumens Maximum Output
The UDR Dominator® is just under 12 inches long but its advanced LED technology — powered by either the included rechargeable Lithium-ion battery or twelve 123A disposable batteries — produces a maximum output of 2,400-lumens of dazzling white light at its high setting and eight decreasing output levels down to 14 lumens. Specific lumen outputs are: 2400,1275, 675, 350, 180, 100, 50, 28, 14. 

Three separate pushbutton head switch lets you activate the light constant-on, momentary-on, or MaxBlast™ modes, the latter always delivering maximum output mode at any selector ring position except Off/Disable. 

Charging the Dominator is easy: connect the charger to a 120V outlet, or into a 12-volt cigarette lighter/accessory socket when using the DC adapter, then plug the charging cord into the UBR's charging socket — no removing the battery and no special charging cradle needed. Both wall (AC) charger with international adapters and car (DC) charger are included. 

An alternate power source is included: one battery magazine that holds twelve 123A disposable batteries; the batteries are also included. 

The Dominator also features a 3-color LED indicator ("fuel gauge") that tells you the battery charge level. 

Constructed from tough aerospace aluminum that is Mil-Spec hard anodized for extreme durability, the Dominator is O-ring and gasket sealed to keep out moisture, dirt, and dust. 

NOTE: When disposable 123A batteries are used in the UDR Dominator, runtimes at all settings are increased. See Specifications above.
Features
Virtually indestructible LED emitter, microprocessor regulated to maximize output and runtime
Dual fuel capable — uses one lithium-ion rechargeable battery (included) or twelve disposable 123A cells (included)
Coated, tempered window resists impact and thermal shock, maximizes light transmission
Precision reflector creates extended-range beam
Three head switches: constant-on, momentary-on, MaxBlast™
11-position selector ring lets you choose 9 output levels, strobe, or Off/Disable
High-strength aerospace aluminum body, Mil-Spec hard-anodized for extreme durability
Fuel gauge indicates remaining battery power
O-ring and gasket sealed to keep out dust and moisture
Wall (AC) charger with international adapters and car (DC) charger included
CALIFORNIA PROPOSITION 65 WARNING: This product can expose you to chemical(s) known to the State of California to cause cancer, birth defects or other reproductive harm. For more information, go to www.P65Warnings.ca.gov/product.
Specifications
Output / Runtime -- White Light
High
2,400
lumens / 2.25 hours*
Low
14
lumens / 22.75 hours
Length
11
.6
 inches
Bezel Diameter
3
.0
 inches
Weight w/Batteries
2
.4
 pounds
Batteries
1
Li-ion rech. or twelve 123A
* Runtime using 123A batteries
Restrictions
Strobe Warning
Exposure to strobing lights may cause dizziness, disorientation, and nausea. A very small percentage of people suffer from photosensitive epilepsy — approximately .00025% of the population — and may experience seizures or blackouts triggered by strobing lights. Visit www.epilepsyfoundation.org for more information about this rare form of epilepsy. Anyone who has had symptoms linked to this condition should consult a doctor before using this product.