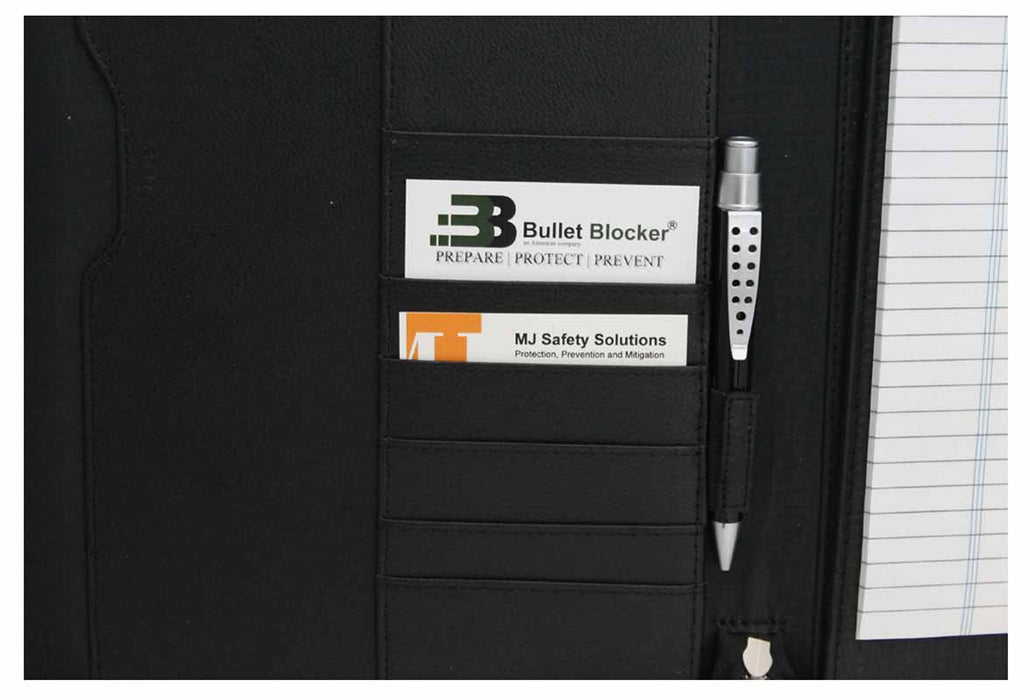 Bullet Proof Notebook Folio
Our Defender Notebook Folio is perfect for any student, commuter, or workplace professional that desires an extra layer of bulletproof protection that is both practical and stylish. Using the latest DuPont Kevlar technologies, the zippered folio provides the same NIJ IIIA protection found in all our products. The anti-ballistic panel is sewn discreetly into the genuine leather folio so you never have to worry about compromising comfort or concealability. The lightweight bulletproof notebook is ideal for anyone who wishes to effortlessly enhance their safety each day at school or work.
Features and Benefits
Only 10 oz. of added weight for ballistics.
Great gift for students and business professionals
Folio includes a 10" tablet sleeve to keep your device safe and scratch free.
Various pockets and a zippered closure to keep your items secure.
Unique FlipTuck™ feature that allows you to store paper while taking notes.
Ballistics
Constructed with the latest DuPont Kevlar technologies.
Meets NIJ IIIA standards that will stop a 357 Magnum, 44 Magnum, 9mm, .45, hollow point ammunition and more. 
More than 100 square inches of Ballistic Protection.
Specifications
Proudly manufactured in the United States of America.
Weight (Folio + Panel): Approximately 3 lbs.
Overall folio is 10"W x 13.75"H x 1"D
Bottom front pocket center: 9"W x 4"H 
Bottom front pocket upper center: 9"W x 2"H
Left front pocket center: 4"W x 9"H
Left front pocket lower center: 4"W x 2"H
Testimonials
"This is one of my favorite products because of how versatile it is. Taxi drivers, lawyers, teachers, and anyone that uses a notebook can utilize this product." -Joe
"I ordered a portfolio and it arrived in a beautiful box giving it (even before opening) a high quality feeling. The portfolio itself is perfectly stitched and is quite exquisite. I love to bring it to meetings because my colleagues and customers complement it. It has fulfilled my expectations and more!" -A Happy Anonymous Customer
Shipping: Please allow 14-21 business days. A majority of our products are custom-made at the time you place your order and must pass rigorous quality assurance analyses before they leave our facility. Anti-ballistic materials (whether purchased from us or any other company) have an industry standard expiration of 5 years, and we strive to preserve our product's longevity by following a 'made to order' production approach. We pride ourselves in delivering the highest quality products to our customers, and appreciate your understanding.